Bruno D'ALIMONTE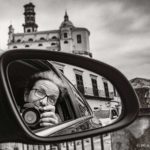 Bruno D'ALIMONTE (Italian b. 1969 Brussels – Belgium). My intimate photographic work pays a tribute to fragility through an ongoing indecisiveness that reflects chaos surrounded by chimeras. My latest works is the fruit of an unstable but necessary choice depicting a pictorial and metaphoric tension in the narrative. The images created are undefined and vague; they play with the narrative codes of everyday images yet are deeply intertwined with the ineffable. The world I show is poetically puzzling, it reflects our evanescence beyond any form of vanity.
Bruno D'Alimonte studied at ERG and INRACI schools. He lives and works in Brussels. His photographic predilection is for social and urban notions that he likes to phase with the passing of time. He is also known for the portraits he makes for editorial and storytelling purposes.
EXHIBITIONS
2020
Brussels Art Square – Sablon Brussels
PEEP ART Gallery Brussels
2009 & from 2013 to 2020
Art Truc Troc at BOZAR – Brussels
2019
Focus on the new collection of the Brussels Wolubilis Loan Center – Brussels
Small Formats at Médiatine – Brussels
2018
The Funchal Vibes – Brussels
2017
2016
Bog-Art Contemporary Space – Brussels
Accessible Art Fair at MJBl – Brussels
2013 to 2015
Wolubilis Loan Center of Art – Brussels
2012
META-TAG project with Brussels'Eyes asbl at Saint-Géry, Brussels
Selected for the Alain Godon Trophy – Le Touquet – France
ARTISTICA Gallery de Polet Abud Franco – Brussels
Art in Properties – Maison des Vétérinaires at Cureghem – Brussels
Parcours d'Artistes Saint-Gilles with Cheptisun asbl
2011
Frayeman House – Brussels via Brussels'Eyes asbl and the City of Mouscron
Forest Parc – natures with Cheptisun asbl – Brussels
Artists Promenade, invited by LADRIERE architect – Chastres
Creating Brussels Eyes asbl and "An unusual portrait of Brussels" at CONGRÈS heritage station – Brussels
2010-2011
Accessible Art Fair – Brussels
Galerie Brenart with ArtMagna Fed. – Brussels
Aspria space with ArtMagna Fed. – Brussels
2009
Mozaik Artistik – Schaerbeek
2004-2005
Retrospective and itinerary exhibition from the covers he made over the years for the "BIS…" a social sciences magazine for C.B.C.S.
1997
"CROISE-REGARDS" Gallery – Brussels, "Début"
1996
"THE AMERICAN CULTURAL CENTER" – Brussels – Manhattan Memories
1992
MOLENBEEK CITY-HALL – Brussels
MEDIAS & PUBLICATIONS
2020
JaamZIN Creative – 10/2020 featured artist.
Wolubilis – 02/2020 featured artist.
2018
L'Echo – culture 31/03/2018 about the Brussels workshops project.
bruxselsfuture 14/04/2018 about the Brussels workshops project.
2017
Your Daily Photograph 05/05/2017 ( One of the winners of the "Daily" call for submissions on the topic "Disappearing." Each artist freely interprets this topic.)
2015
Focus Vif, 16/01/2015 "Ça marge pour Truc-Troc" by Michel Verlinden
Your Daily Photograph 10/2015
2013
LE SOIR, 2-3/02/2013 pp 15 – PC Portable contre photo d'Art urbanistique by Vanessa Lhuillier
2012
50 degré Nord on Arte TV by Philippe Courtelle about Meta Tag Project 18 & 20/04
BGHM info pp. 14-17 about Meta Tag project
La Libre Un nouveau regard sur Bruxelles by Annaïs Martinez 31/03/2012 pp. 48
LE SOIR, La lumière ajoute la narration à l'image
2011
De Standaard newspaper, "In een Kleine stationnetje…" by Geert Sels 12/08/2011
Accessible Art Fair, Guide To the fair – spring 2011 edition p 17
Poésie Urbaine du quotidien, LE SOIR by Stéphanie Abelooz 11/2011
Regards insolites sur Bruxelles by Jean-Pierre Borloo 11/2011
Portraits insolites de Bruxelles, LE SOIR by Ophélie Delarousée 11/2011
TIMELINE
1969
Born January 2nd in Brussels, Belgium
1989 – 1990
Graphic Research School, ERG – Belgium
1990 – 1992
I.N.R.A.C.I. Photography High School – Belgium
Starts to work as technician in a black & white professional photography Lab
2011 – 2016
Created the non profit association "Brussels Eyes" and starts working in the press area
2012
Candidate for the Alain Godon Trophy – Le Touquet – France
2013 – 2016
Selected artist for the Wolubilis Loan Center of Art – Brussels
2015 – 2016
Candidate for Visa d'Or Daily Press award – Perpignan representing LE SOIR Newspaper