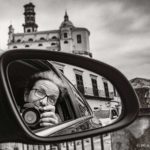 It's me. Finally my nice side and its narcissistic image that fits with the times. I selected this image to represent myself. I like the image, it is dynamic, carefree and offbeat.
It's during summer 2014, while Robertino was driving, I'm squeezing my butt. The winding, narrow and crowded road that runs through nostalgic villages along the Amalfi coast and my overconfident driver make me decide to enjoy the moment rather than fear the clash of plane trees. It goes fast and it's beautiful as life goes by. This moment of carelessness is rewarded by this self-portrait that will serve as my business card.
The look in the rearview mirror is in line with the project, I think about how far I have come to move forward and say to myself that I did the right thing by embarking on a complete adventure. The know-how acquired as a press photographer and my wrinkles will testify to the patina and experience that build confidence, they will also remind us that the time that passes is important.
Changing your life means leaving a job, taking a check and running an independence marathon without too much trouble. We want to succeed, but not everything depends on us.
The choice is made, I am above all a freelance photographer oriented "portrait", my aspirations go into the art and design of your images, my credo.
See you soon for a meeting.